A Teacher's Non-American School Experience
"No logos or anything like that," said my mom.
She had just explained to me that we needed to take a bunch of precautions for our "vacation." These precautions seemed more like we were becoming refugees rather than tourists.
We were not to wear anything that would pin us as Americans. No American-ish logos. Only plain clothes. If anyone asked, we were either British or Canadian. My mother even told me to use my fake British accent–gleaned from living in Britain for over a year–in case of emergency.
We had gone through a British tourist company, so that seemed to help our disguise. Where were we going? Israel.
I knew nothing about Palestine; I knew nothing about the history of Israel. Even if most of this fear was my mother's inaccurate read of the politics of Palestine and Israel, I was 13 and just beginning to understand that the world did not become completely peaceful, luckily, just for my generation. I did not want to go.
And so we went to Israel.
I fell in love with dried fruit and then fell out of love, binging on dried apricots over the course of several days like movie-goers chug popcorn before the movie starts. I hit critical dried fruit mass, expelling every cell of those apricots in great gastronomic explosions.
We swam-floated in the pinnacle brininess of the Dead Sea. My armpits burned for hours afterward, but the sensation of bobbing like buoy in that weird water was worth the price.
We saw old Jerusalem and the Wailing Wall. History compelled all the wonder I could muster.
And then we ate at Pizza Hut. Perhaps we couldn't escape who we really were.
But there were checkpoints and soldiers on the streets. For Israelis, it may have been normal. A peaceful measure even. For us, it was not.
When we flew El Al airlines from Tel Aviv to Eilat, I couldn't help feeling terrified of a terrorist attack. And this was before 9/11.
Three years later, living in China, I became a sort of threat myself: I was a frequent target of security searches at airports.
I was into punk rock, and I made sure everyone knew it. This meant spiky-and-colored gelled hair, hooped earrings, baggy pants, skater shoes, a chained wallet, and perhaps a Fat Wreck Chords t-shirt.
But I was definitely not punk rock. Or, at least, I was not of the anarchist street youths that artistically started the movement in a profusion of edgy DIY wabi-sabi. I was just a privileged kid finding kinship with questioning the status quo, buying and wearing whatever it was that made me feel a part of that culture with, mostly, my parents' money.
But in pre-9/11 times, I was still asked to take my shoes off during layovers in Japan or invited to have my bag–which I had decorated with crude whiteout graffiti–sifted through at the airport in Shanghai where I lived for the last three years of high school.
Back then, I saw these searches as the natural byproducts of wearing "rebel" clothes and all the stigma it projected. Regardless, I went through the process of these checks with a politeness that I hoped would help alleviate the overriding assumptions.
I hadn't realized it, but I was actually becoming an adult. I was no longer perceived as an innocent kid. I was in the gray area of maturity that teenagers stumble through.
Of course, my self-perception had already been light years ahead of reality, first seeing myself as an adult back in the 7th grade. But my maturing looks had finally convinced the authorities that I was of the adult realm.
And then, in my junior year of high school, news of the "Columbine High School massacre" (as Wikipedia calls it) made its way across the Pacific.
Among other things, this had me renegotiating what high school life was like in America, a land that was still mystical to me, though it was my place of origin.
The Joke
Before Columbine, I had heard American expats tell the following anecdote many times: "And what kind of gun do you have?"
If you've ever been overseas, you know how huge the influence of American culture is. So it's curious to see this part of American culture reverberate around the world.
When Columbine happened, this naïve and humorous misconception about gun ownership in American culture turned sour for me. I wondered, also naïvely, at how violent America had become. I knew how cruel school-aged bullies could be to anyone that defied the "pop" status quo, but to resort to such violence? That was absolutely terrifying.
(Here, I must point out that when Columbine happened, the popular theory was that the violence was meted out as retaliation to being bullied. If you read David Cullen's Columbine, you know the real reason is more complex.)
And yet, I had just fired a gun for the first time, though in an unlikely place: Brisbane, Australia. There, in a store in a mall no less, we paid to fire a .22 pistol that was welded to thick cables connected to the firing cubicle it was housed in. Meaning, you couldn't turn the gun anywhere but forward.
I remember thinking how nonchalant it was to fire that .22, but so difficult to get it to fire at what you wanted.
In my entire career of schooling in America and overseas, the only time I had ever felt like actual violent harm could come to me was when America accidentally bombed a Chinese embassy in Belgrade two weeks after the tragedy at Columbine.
There was some sort of rally in the streets of Shanghai decrying the bombing of the Chinese Embassy. In response, the American school I attended closed for two days.
Days after school restarted, I remember walking on a sidewalk somewhere in downtown Shanghai when an angry man in his twenties confronted me, in English, about the embassy bombing. I don't remember the remark, but it was sly and cutting, a rhetorical question rounding it all out.
It had happened in such a clipped fashion that I even said, "What?" to clarify what had been said. He said something else but kept walking, leaving me wondering how many other people around me felt the same.
The irony of that encounter was lost on him, but not on me: At that time in my life, I didn't really consider myself American, except for the fact that I had bought into a part of its culture.
The idea of America and American education existed for me in a form I could not discern. Yes, I went to American schools overseas, with American curricula and some American staff, but the student body was so nationally diverse as to make the school feel like just an English-speaking private school in another country, privileged in the ways that private schools are.
Real American schools existed for me in TV shows like Saved by the Bell or movies like Dazed and Confused. And then there were the memories of my six months of middle school before I had first moved overseas to England. (Now, I only remember this American middle school experience as feeling lost in the crowd–an inevitable response from the transition from a feeder elementary school–trying to adjust to the new expectations of sixth grade while rebuilding and adjusting my social group in a much larger pool of students.)
I was a shy kid, so any change was pretty difficult. Moving to American schools overseas was not the immediate antidote to my issues. I knew enough by then about myself to know that it took six months for me to acclimate to any new place. And in those beginning years, I switched schools three times in a year: once in America and twice in England.
But the result was pretty great. I have the fondest memories of the American school in England where I spent most of my years, all the way to the end of ninth grade. I was a part of the school's wonderful musical scene (the school employed a guitar teacher and a drumming teacher), had great teachers, and fell into a family-like community of students owing in part to small class sizes. When school was out, we roamed the campus. Of course, some doors were locked, but I remember the place as a resource for our teenage needs, more like a college campus than the high schools in America today.
And when I moved to China at the end of ninth grade, it was much the same.
There was no point in time where I ever felt my life could be in danger, except for an international incident that possibly jeopardized any American in the country I lived in.
An American Goes to American High School for the First Time as a Teacher
At my second student-teaching placement, I remember the unease I felt walking through the high school's airport-like security system. It was a foreboding vibe.
I was thinking this: "What manner of place am I entering where the presence of violence is trending toward students arming themselves with guns?"
I wasn't thinking this: "The presence of these security systems make me feel as safe as an airport security system."
I do feel loads safer with the current post-9/11 airport security. And the system seems to be working quite well. Though sometimes when I'm in these airport security lines, I have anxiously–when the line is so long that it needs blocky maze-like switchbacks–thought that this environment, just before the security system, would be the best place for a terrorist to strike.
But once through the bag checks and the body scans, it is a relief. I'm thankful for seriousness of it all and more than willing to step aside if something of mine needs to be double-checked. I'd rather there be double-checks, even on innocent me.
And here is the driving question that started this essay: Why do I react differently to a security check in an airport versus a school?
When we first went to Germany to visit my parents' friends. Our plane docked at the Frankfurt airport terminal, and I remember walking out of the gangway to see police with semi-automatic weapons posted up at various spots. (This was also pre-9/11.)
When you arrive at any country, your senses are heightened because you are ready for some culture shock. And the military-style guns, well, they were not the touristy nuances I was expecting. What was going to happen that such guards were needed to welcome new arrivals? What rules were in place that I didn't know about? What suspicions did they have for those of us who were about to enter their country? Did I need to worry?
Humans are rather acute environmental readers, even if it's on the subconscious level. Even if those guards were there for 15 minutes or responding to a called-in threat, there is unspoken communication occurring. There are studies that show a phenomenon known as "The Weapons Effect." Regardless of whether or not such a thing is super impactful or not–there are conflicting meta-analyses–humans are creatures of symbols.
There is a difference in our emotional resonance when we put on a seatbelt versus seeing someone flout the safety rails at the Grand Canyon. One of them barely releases any brain activity while the other will most assuredly create some sympathetic stress, even if you don't know that person flouting the safety barriers, trying to get that amazing selfie.
The Magnetic Strip
More than twenty years later, I have a different understanding of Columbine. For one, we have retrospect in terms of what actually happened. (Again, I strongly recommend reading Dave Cullen's awesome book, Columbine.) I've had a lot of training in school shooting tactics and scenarios. It is a part of our emergency protocols, similar to the duck-and-cover nuclear bomb drills of yore. But our school shooter training is far more active than the duck-and-cover drills.
For instance, if you are trained with the ALICE (Alert, Lockdown, Inform, Counter, Evacuate) protocol, you learn how to mitigate the total tragedy of something like what happened at Columbine. And you do this by being nimble, which is against the locking down and staying-in-place protocol that was taught in all schools at the time of the Columbine tragedy.
The ALICE training seems pretty logical to me. Basically, ALICE argues that in a chaotic situation, such as one with a school shooter, it is best to react to the situation with multiple protocols rather than one.
When we practice ALICE with students, it is odd to have to stop class and introduce the possible narrative that someone might come for us with weapons and here is what we should do. It's out of the realm of the kind of rote emergency practice common to most jobs to practice piling desks in front of doors to block access, discuss what we should throw at the assailant if they do enter the room, and negotiate whether to leave or to stay if an assailant is at such-and-such location.
It's, of course, out of place because there is no real reason why someone should come for us with such intent. And even less to bring a gun.
Columbine and other similar tragedies, like 9/11, had a drastic effect on how we operate our public spaces. In the school building's case, it is about managed risk rather than full-out prevention, like how airports nowadays operate. Though high schools aren't the only schools with metal detectors, they have the most percentage out of all of them: 11 percent. Most schools have instead opted for the presence of school officers. But the more nuanced and interesting reminder has to do with my classroom door.
I wouldn't mind keeping my classroom door unlocked for an entire day of school. It makes it easier for students to run errands, get water, or go to the bathroom. I rarely have anything of note to steal in my classroom, though I used to worry about it in the past. With the advent of hallway cameras and all of that, there is less to worry about, at least in terms of a teacher's classroom.
I still keep the doors locked before and after school. Students often don't realize the disorder they leave, even if they just hold a club meeting in a classroom: desks rearranged, whiteboards full of scribble and scratch, tools of the classroom strewn in various new homes, bits of wrappers and a water bottle or two left behind. For these small inconveniences, I keep the doors locked.
But, really, I can never have my doors unlocked.
There are no quick locking mechanisms on the interior-facing side of the door. This is presumably so students can't lock people out without a key (locking a door by just flipping/turning a small lever like in a staff bathroom).
In the case of a school shooting, where I may have to lock the door, I would need to get my keys out, run to the door, have the calm to choose the appropriate key, insert the key the right way (which I have trouble with on regular days), turn the key the right way, and then check to make sure the door is in fact locked, all in order to keep my students safe.
As anyone who has been in a life or death situation knows, what you do in that situation sometimes surprises you. You may be calmer than usual or you may shake with fear. I've never been in a school shooting, so I don't know how I would act.
So, I use this magnetic strip, graciously supplied by my school, which you can find fairly easily online: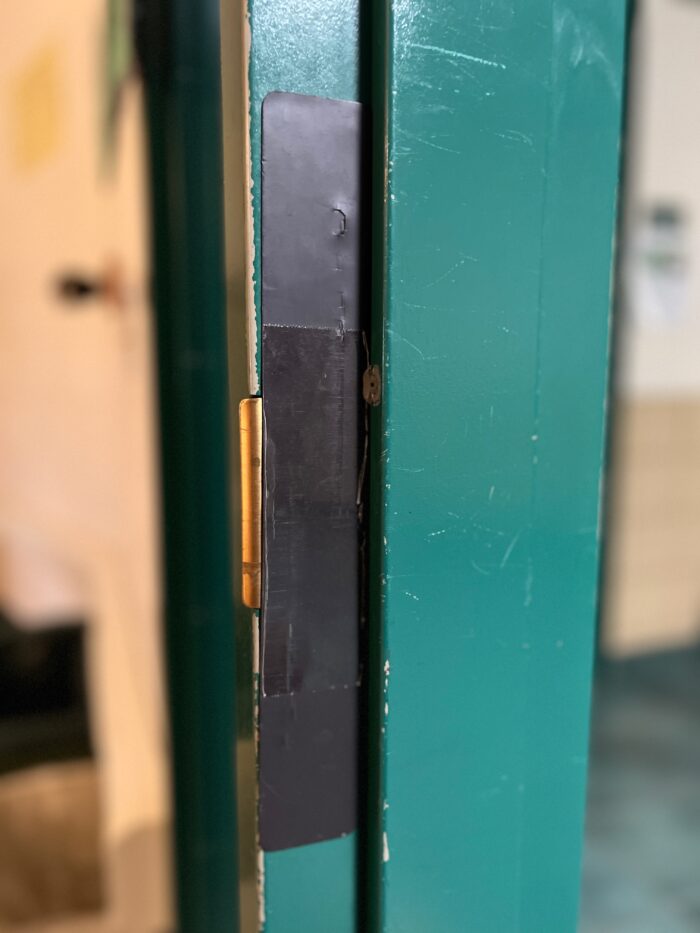 It is a firm magnetized strip that adheres to the inside of a door frame to cover the place where the locking mechanism of a door inserts itself. With the magnetic strip in place and the door closed, you still wouldn't be able to turn the door knob (it's locked), but you would be able to lightly push the door to pop it open.
Like plastic staplers and whiteboard markers, the magnetic strip was not quite built to last the years of tough use it gets in a high school. The original laminated cover of the magnetic strip, which did double duty in having the instructions on it whilst supplying a slick surface that the industrial-door-locking mechanism needs to slip across the magnetic strip for the door to seamlessly open and close, has long since peeled off. So I stuck some packing tape on it. It's a practical fix, meaning everything works just fine, but the magnetic strip has accrued a bunch of divots and cracks from the regular abuse of a classroom door.
And this is an interesting juxtaposition: a thin magnet with a potential huge job slowly being demolished over time by student bathroom trips.
After the end of every school day, I remove the magnetic strip and stick it on the classroom-side of the metal door frame. And every morning, I stick the magnetic strip back over the locking mechanism.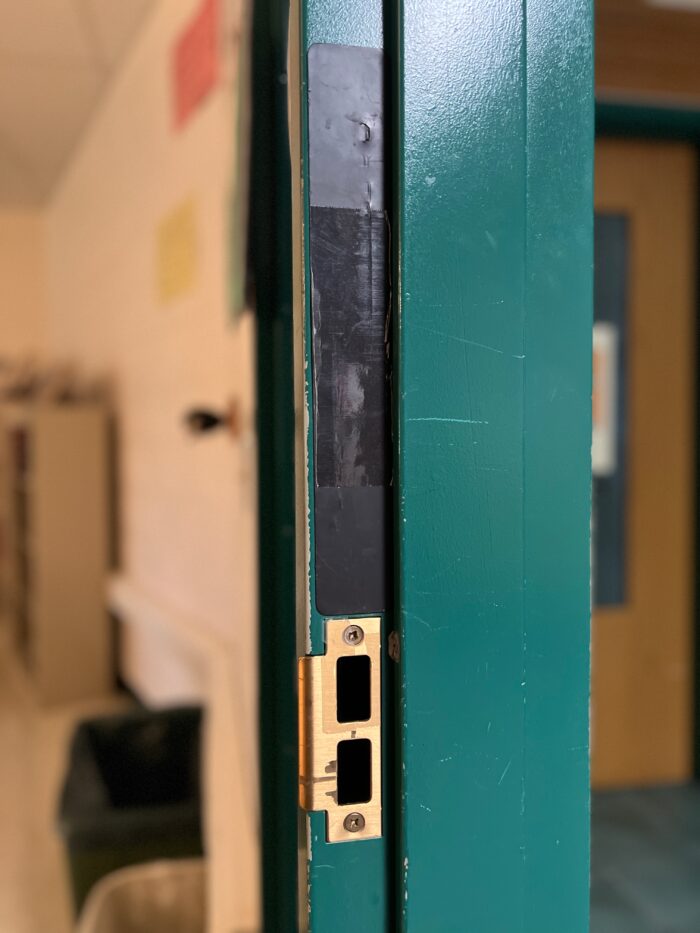 It is a constant and simple reminder that there is somehow danger coming to the people that learn in this building. It is not quite like a seatbelt. Nor is it like an airbag, crash sensors, or a bumper, which are all mitigating elements for the most dangerous activity I do on a daily basis.
And, yes, we negotiate dangers every day. Most we acclimate to, perhaps only scaring ourselves with occasional imaginary slippery-slope-like scenarios in our most anxious moments. What would happen if the knife slipped and I cut my index finger off? If I accidentally turned the wheel on this bridge? If I tripped in front of this campfire?
When we think about the harms that people can intentionally enact on others, I sometimes think of the times when people have told me they used to keep their house doors unlocked. When we increase the population of our societies, we introduce more variables. Our interconnectedness creates complexities that are supremely beneficial and horribly tragic.
Writing this makes me think about how education is so important in such an environment. Though we may apply it imperfectly, education is necessary in an increasingly interconnected world.
The enemies of education, those who would prevent us from furthering ourselves and our interconnectedness, are not deterred by a magnetic strip. That danger, the door-locking kind, the ALICE kind, that really has nothing to do with the school but everything to do with a war far away, in the interiors of a traumatized mind, whether it's been brewing for years or only a few minutes.